Moriyama and HSM Client Story
The Hot Spots Movement is a specialist research and consulting team.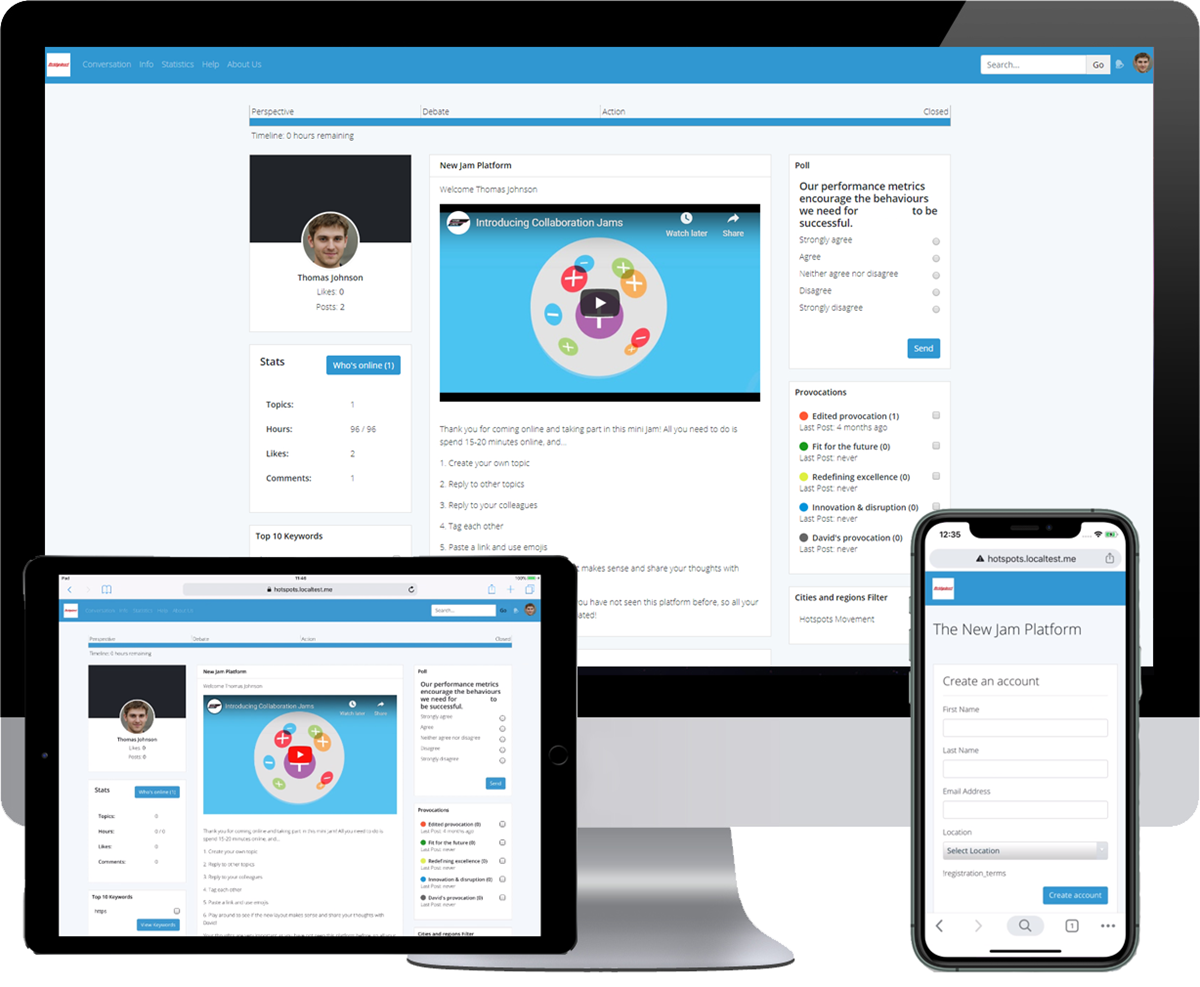 It's Jam day with the Moriyama and HSM partnership
Question: how do you engage your employees about important cultural issues when there are tens or even hundreds of thousands of them, and they're spread all over the world?
The answer? You run a Collaboration Jam. A 72-hour online facilitated discussion that allows people to come together across geographies and time zones to debate a chosen topic and provide feedback and opinions.
It's a key part of the service offered by HSM Advisory, a research and advisory firm that helps global multi-national organisations with change. This can be from long-term strategy to day-to-day actions and across a wide range of subjects including people experience, culture change, strategy, inclusion & diversity, and the future of work including hybrid work. The goal is advancing organisations and co-creating a sustainable future with them.
That focus on co-creation is at the heart of the Jams, which help multinational organisations collaborate with their staff to shape lasting change. Since the first online discussion eight years ago, HSM has worked with the likes of PwC, HSBC, Linklaters and Dentons to run more than 40 Jams with hundreds of thousands of participants.
Reliability required
To host an online discussion of this kind you need a robust and reliable platform that can manage high user traffic and scale easily to the needs of the discussion. Clients and participants need to know that it will be live for the full 72 hours and that every response can be captured and analysed.
As the Jams' popularity grew, it became clear that significant development work was needed to make the platform fit for purpose. HSM's criteria were simple; the Jams needed to be easy to use, collaborative, and data secure. With simple reporting and analysis functionality in the back end. That's where Moriyama came in.
"Moriyama has been a key partner in our growth to become a world leader in providing large-scale crowd-sourced conversation platforms for multi-national organisations. We have always felt assured by Moriyama's expertise and professionalism and are grateful for the role they have played in our success." Harriet Molyneaux, Managing Director, HSM Advisory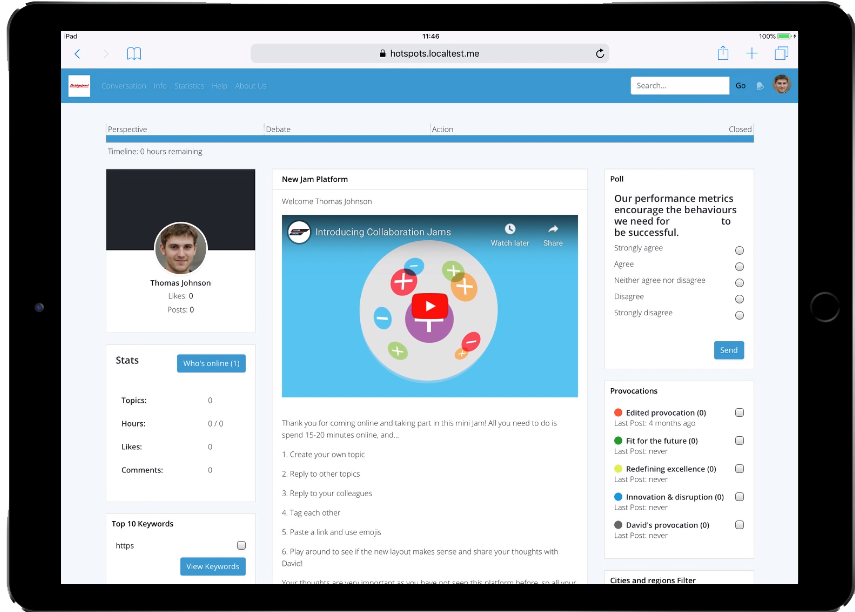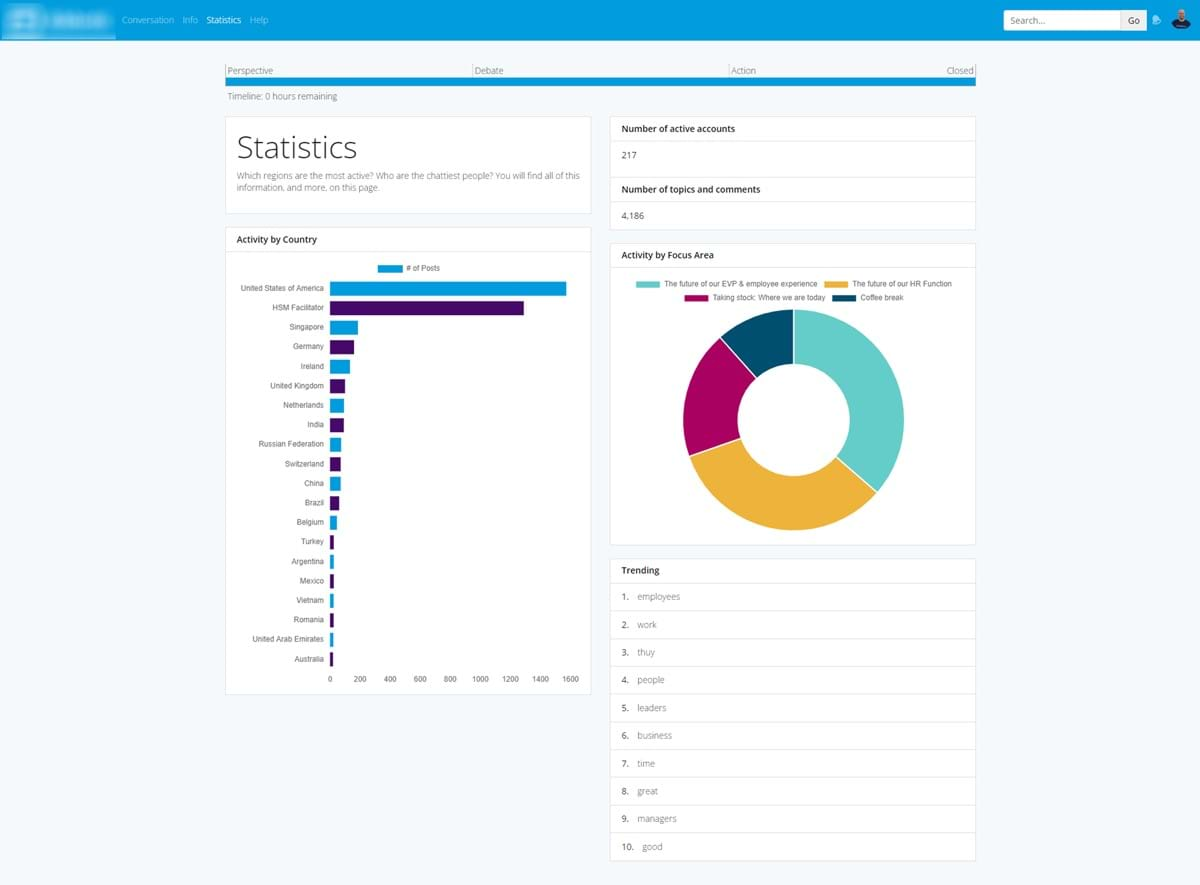 Seamless scalability
Moriyama rose to the challenge. With a hard deadline of 12 weeks to deliver something to support a Jam that had already been committed to, the team at Moriyama set about developing a minimum viable product (MVP) with a robust testing plan (including routine performance testing) and set of SLAs.
The solution itself was designed to be cloud-native on Microsoft Azure. That meant it could meet the main objective, which was to support a lot of traffic and thousands of concurrent users, easily scaling to the task in hand. Other aspects of Azure help to optimise performance and therefore the user experience. Like the content delivery network (CDN), which speeds things up by serving up files from the location closest to the user. Cognitive search for indexing, searching, and analysing content. And the smart caching of bits of information depending on how often they're updated.
In the seven years since that MVP went live, there have been minimal outages or downtime, giving HSM and its clients' confidence and peace of mind.
Fresh functionality
Both parties are committed to the process of continuous improvement and the Jams platform is constantly evolving. A collaborative approach to the development roadmap sees regular updates to features and functionality. Latterly, this has focused on additions to engagement functionality – like tagging, @ mentions, and the pinning of topics. But all development aims to improve the experience for administrators, facilitators, and end-users alike.
As many aspects of the future of work have become realities of the here and now, thanks to a global pandemic and stay at home orders, it's unsurprising that HSM is growing fast and that their Jams are in high demand. At their core, the Jams are about connecting people and helping them reach out to each other. And wherever and however we work, there will always be a place for that.
About Moriyama
Moriyama builds and supports .NET websites and applications. We specialise in Azure DevOps deployments and follow best practices when configuring applications. If you have any questions about this case study, would like to know more about Moriyama or are interested in speaking to us about a project please get in touch at contact@moriyama.co.uk or by using the contact form below.